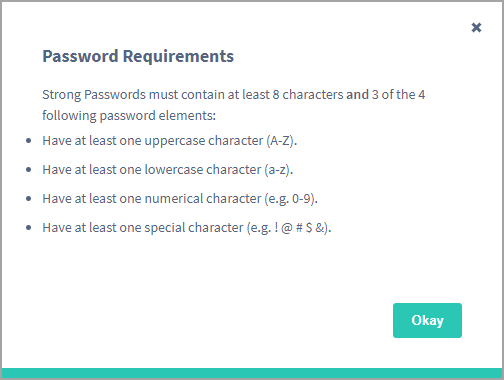 eLynx uses password complexity requirements for all users and administrators that access the eLynx application. When creating a password for a new account or changing a password for an existing account, the password must meet the following baseline requirements :
Passwords must be at least eight (8) characters in length
The Password must contain at least three (3) of the following:

At least one lowercase alphabetic character (e.g. a-z)
At least one uppercase alphabetic character (e.g. A-Z)
At least one numerical character (e.g. 0-9)
At least one special character (e.g. ! @ # $ &)
In future releases, new password features will be added to allow customers to better manage passwords in alignment with their organization's security policies:
Character Length Override – Raise the minimum character limit above 8 characters
Duration – Define _x_ days before the user is forced to reset their password
History Enforcement – Prevent the User from reusing any of their last _x_ passwords (defaults to 3)
Expiration Date – Set a specific expiration date for a User's password
Please contact eLynx Support at support@elynxtech.com or 866-303-5969 with any questions regarding passwords or if you need assistance.
Thank you for being an eLynx customer!